Achieving Data Accuracy, Agility and Speed Through Workflow Automation
Learn how workflow automation supported HMSA's implementation of employee vaccine mandate tracker in just days!
This TRUE event will demonstrate the power of Workflow Automation and the solution developed by HMSA's tech team to manage their employees' vaccination and testing requirements. Amid a surge of the Delta Covid variant, HMSA decided to implement an employee vaccination mandate to protect their members, community and personnel from the risks of Covid. Managing highly sensitive information with varying degrees of security access, tracking multiple vaccines, and a compressed timeline to develop a tool all added to an already complex challenge.
Learn what Workflow Automation is and what it can do to help Hawaii's businesses from Jason Daley, Account Executive at ServiceNow. Then, hear about how HMSA took an existing tool and developed a new workflow for Covid employee vaccine tracking in a matter of days. Listen to Ailin John, Senior Manager, IT Client Solutions at HMSA share the results of the digital transformation and how HMSA's team, inspired by the spirit of innovation, embraced the challenge, and raced the clock to solve a problem with technology.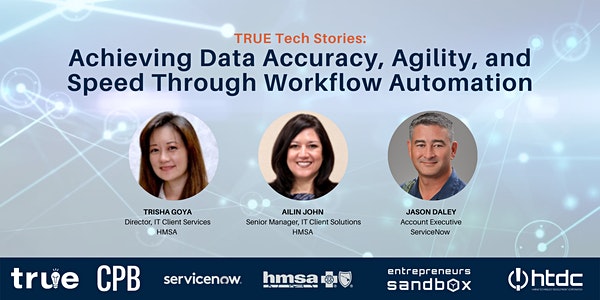 For more information
Contact:
Leilani Farinas
Executive Director TRUE
Trisha Goya
Director, IT Client Services
HMSA
Ailin John
Senior Manager, IT Client Solutions
HMSA
Jason Daley
Account Executive
ServiceNow